About Us
polypat caraïbes, the reference in St. Martin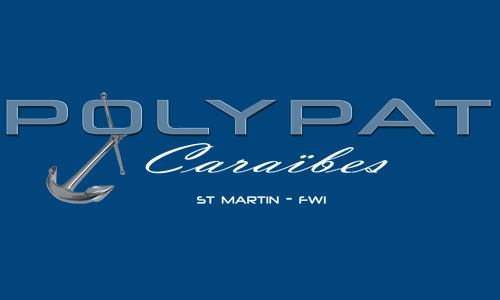 Our Story
Created in 1994 by Fred & Béatrice WOJCIK, Polypat Caraïbes is the oldest shipyard on the French part of the island of Saint Martin. Polypat Caraïbes is located directly in the sea/lagon access channel next to the Sandy Ground bridge on the lagoon side.
After having lived in Brittany, it is on the other side of the Atlantic that we decided to drop anchor to welcome the yachtsmen who came to sail in this extraordinary little corner of paradise that is the French West Indies to offer them professional services.
Who We Are
Polypat Caraïbes' team welcomes you in a friendly atmosphere for the maintenance, repair, storage of your boat during the hurricane season and many other services.
The Team members of Polypat Caraïbes are:
Fred in charge of boatyard and lifts
Béatrice to welcome you
Alain crane and composite specialist
Lamour & Achille Lifting preparation and execution of the work and fairing
Wilner & Désir responsible for site safety day and night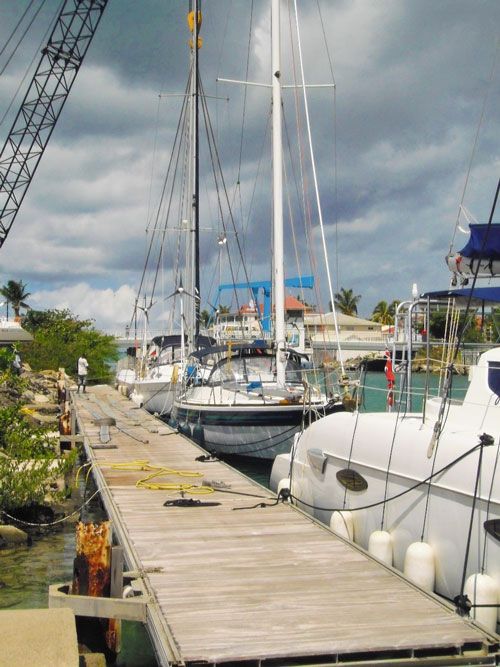 What We Do
Polypat Caraïbes is your privileged partner in St. Martin for the maintenance, repair, storage of your boat during the hurricane season and many other services ...
With a long experience in these fields, our specialty remains undoubtedly the repair of polyester and composites, the interior design, the modification of certain elements, and the design of unique piece.
Our activities:
Lifting: All our lifts are performed with a crane P & H 660 TC 20 tons lifting capacity.
Dismasting: Made with the crane and mandatory during the hurricane season for all the monohulls. The poles are stored in a space reserved solely for that purpose.
Fairing: Achieved either by our team or by the owner of the boat itself.
Hull painting: Directed by Alain, our International Alwgripp painting expert.
Osmosis curative and preventive Treatment.
Polyester repairing: All work with polyester composites, mold making, repair hull, modification.
Construction of small boats.
Gel coat: Repair of a gel coat damaged by a disaster.
Hull polishing: Complete cleaning service from dead works to restore their shine like new and easier maintenance over a long period.
Polish: Renovation of varnish, using traditional methods.
FLEXITEEK distributor for the Leeward Islands: Repairing and replacing teak decks by Flexiteek.
Dry Storage: Short and long term, webbing of all the boats required during the hurricane season.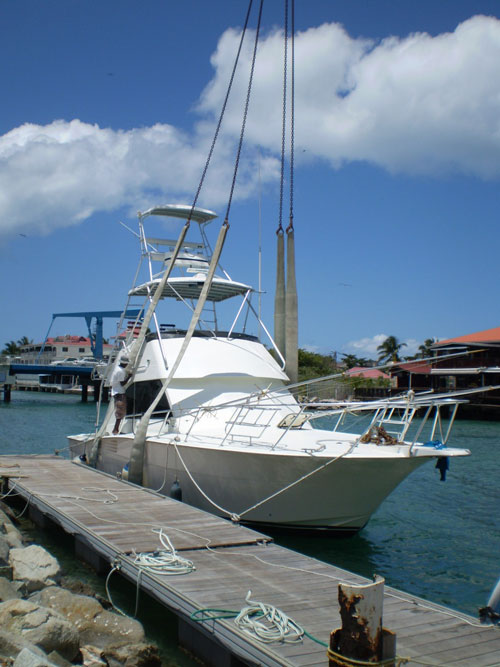 The boatyard
Our equipement
Home boating: a 50 meter floating dock is available
Lifting: P & H crane 60 tons provides the lifts, no problem with lifting the masts with the arrow over 30 meters.
Lifting capacity up to 20 tons.
Park transportation
Ber monocoque hydraulic motors and boats up to 20 Tons
Ber Hydraulics 4 Tones for smaller units.
Boatyard amenities
Toilet and shower,
Electricity 220 volts 60 Hertz,
Individual water meter,
Wifi on site charged at time
Services near the boatyard
Shipchandler,
sail loft,
tack room,
mechanic, electrician,
electronics,
laundry,
supermarket and restaurants.
Why choose us
For many years, the largest boat builders have referred us and called on our services to perform "after-sales service" on their units located in this navigation area.
MAKE AN APPOINTMENT